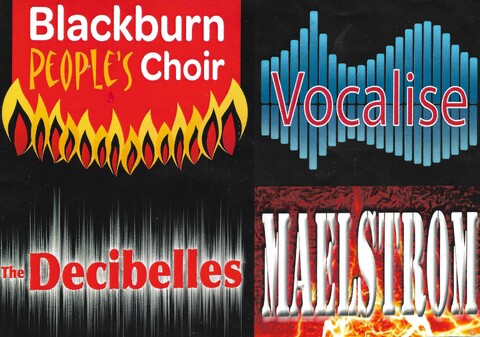 Blackburn People's Choir is one of three choirs all under the the direction of our inspirational musical director Jeff Borradaile. You could also choose to sing with-
DECIBELLES
The all female Acappella sensation, open to all women wishing to try unaccompanied singing without audition. We meet at Wesley Hall on the first and third Wednesday of each month. We are welcoming new members and should you wish to join membership is £10..00 /month.
MAELSTROM
Come along and experience the fabulous Acappella sound of this all male choir. We meet on the second and fourth Wednesday of the month at Wesley Hall. Membership fees are £10.00/month.
Jeff provides all choirs with recordings of the music to aid practice at home.
Vocalise
This is the children's and young peoples choir run by Blackburn People's choir under the direction of award winning choral director Mathew Thomas.
We welcome all children aged 7 - 16 there is no charge.
Meeting on Thursday at 5.30 - 6.30 at Wesley Hall (term time only). New members need a gaurdian or parent on their first visit.
To join contact Liz Beamont 07754 375833
e-mail liz.beaumont@icloud.com
There are no links to display.